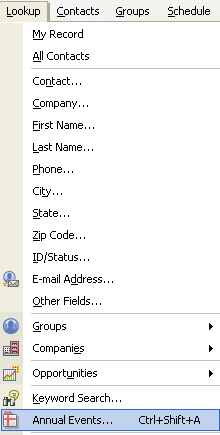 Click on the drop down menu and choose which fields you would like to query. For Birthdays, you may choose Birth Date Sp (Spouse), Birth Date (Contact), Child1DOB (Dependent 1), Child2DOB (Dependent 2), Child3DOB (Dependent 3), Child4DOB (Dependent 4), Child5DOB (Dependent 5), and Child6DOB (Dependent6).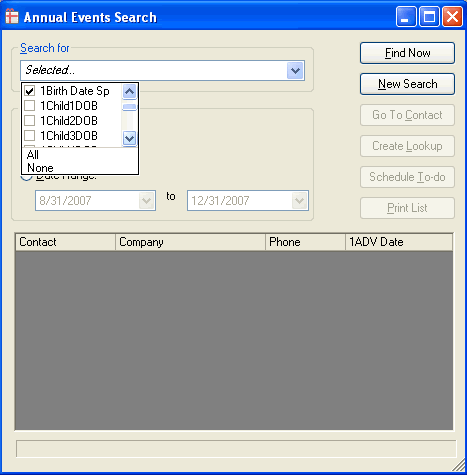 For the "Time Range" you have the choice of Current Week, Month, or Date Range. In this example, I chose "Current Month" and clicked on "Find Now".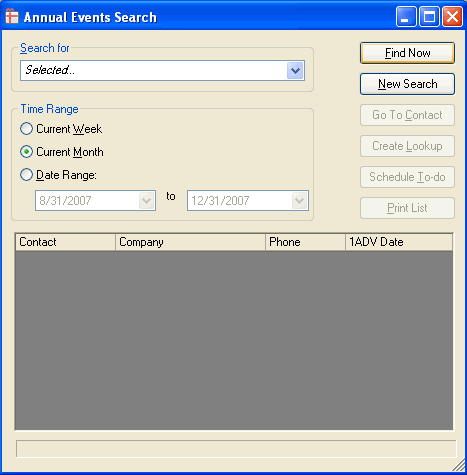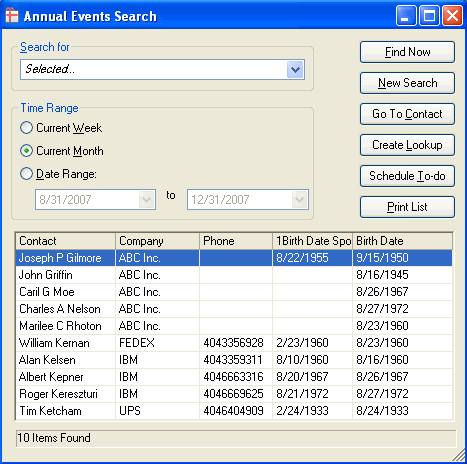 ACT 2008, 2009 or newer - I recommend using dynamic groups:
Click here for more information.



There are several ways in running a Birthday Report in Act4Advisors:
1. Click on Create Lookup (see above image) which will bring your lookup to Contact List in ACT. You may adjust your view and print a simple list.
Most clients I have talked to use this method because it easy to manage and saves paper! Here is a movie that shows you how to manage the Contact List. To view movie click here. This movie will show you how to add home address fields or preferred mailing fields. You may add any fields to your list.
2. On the menu in ACT go to Reports, click on Other Contact Reports and you may choose either A4A_Family Birthday List.rep, A4A_Contact Birthday List.rep, or A4A_Spouse Birthday List.rep.
Now that I have the Birthday Query and Report, what's next?
There are several things you can do. You may want to schedule reoccurring activities to be reminded every year to send a postcard, email, or call to wish your client a "Happy Birthday". You may take your current Lookup and perform a mail merge - printing labels, letters, and/or envelopes with the Preferred Mailing Addresses.